(1) Zum ELK-Haus veröffentlicht
Berliner Zeitung - Debatte um Berlins letzten Altstadtort
Im Jahre 2017 widmete die Berliner Zeitung dem Standort eine Seite.
Berliner Zeitung - Damit das Erwachsenwerden nicht zur Katastrophe wird
Zum Richtfest 2021 berichtete die Berliner Zeitung über das Vorhaben.
 
MITTE auf Augenhöhe
Das Autorenpaar Benedikt Goebel/Lutz Mauersberger widmete dem ELK-Haus eine Passage.
Entwicklungsstadt Berlin
Björn Leffler hat im Oktober 2020 das ELK-Haus in seinem Internet-Forum portraitiert.  > zum Forum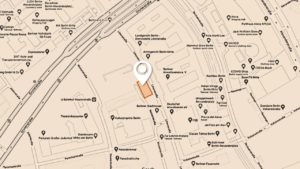 A new building for the EmMi LuebesKind Foundation is being constructed on Littenstraße in Mitte in the direct vicinity of the historical monastery ruins ("Klosterruine"). A house is being built which is intended as an institution for child and youth welfare.
CONTROVERSIAL LOCATION NEXT TO THE MONASTERY RUINS ("Klosterruine")
The location of the land for the new building is controversial: it is small and narrow, but is located right next to the choir of the venerable ruins of the church of the Franciscan monastery. Its construction was started around 1250. Here ran the old city wall built around the same time, the last remnants of which are carefully preserved only 100 meters away.
The Berlin State Monument Office is not amused about the realization of this project, as the site with its ruins, green strip and remains of the wall is unique in Berlin. However, since building rights existed at this location, the project was started after years of discussions. Currently the civil engineering works are in progress.
INSTITUTION FOR CHILD AND YOUTH WELFARE PLANNED
The EmMi LuebesKind Foundation is concerned with children who did not grow up in their families of origin, but in foster families or residential groups. When these young people reach their 18th birthday, numerous child and youth welfare measures end for them. Then they have to leave their previous living environment, often at very short notice.
According to the foundation, this affects around 150,000 children and young people. Obviously a neglected social phenomenon. The founders, Susanne Litzel and Friedrich Loock, have several foster children themselves, whose names can be found in the foundation title EmMi Luebeskind.
CREATING ROOMS FOR COUNSELING AND SHARED APARTMENTS
In the new house there will be rooms for counseling and employment, and in the tower there will be several shared apartments for young people. The foundation is developing the building entirely on its own private initiative and is constructing it without public funding.
It is also planned to use the building as a venue for events and information on Berlin's urban history and the urban development of the Neue Mitte. The building will be constructed according to an architectural design by the architectural office Brenner Krohm.
Residents and employees of the powerful Mitte district court and the surrounding buildings will have to get used to construction work in the coming years. Because compared to the planned reconstruction of the Molkenmarkt, the project in Littenstrasse is comparatively small.